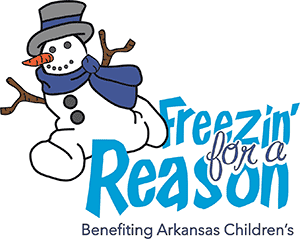 Freezin' for a Reason is for runners and walkers of all abilities. We offer a 10K, 5K, and the Lap for life for families and their children to take one lap around the track to honor past and present patients of Arkansas Children's Hospital. Children and strollers are welcome at all events.All participants registered by January 19, 2019 will receive a t-shirt. Event attendees can also enjoy free food and lots of free fun kids activities like bounce houses, face painting, games, and. more.
The Freezin' for a Reason will take place February 2, 2019. The race will begin and end at the Conway High School West Campus, located at 2300 Prince Street in Conway, Arkansas. The 5k/10k will begin at 9 a.m.The Lap for Life will begin at approximately 10:45 a.m.
Note: Due to a new registration site, prior registrants will need to start a new registration login.
Donate:
Find a Participant or Team: